Veterinary services for domestic and exotic animals.
11612 Main St | Middletown, KY 40243
CALL TODAY: 502.883.1765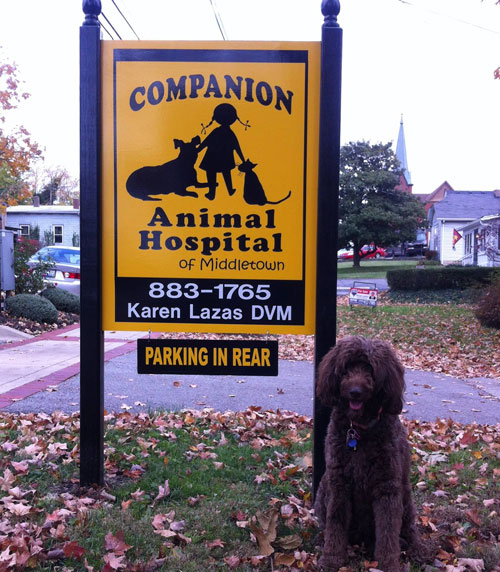 Compassionate Care for your Companion
Whether your Companion is healthy or sick, when you call, we will work to schedule the most convenient appointment for you.  
You can even Drop Off your Companion in the morning and pick him or her up in the evening.  If your dog does not handle exam rooms well, let us know and we can schedule your appointment so I can conduct the exam in the lobby.  It is our goal to make your visit as stress free as possible on you both. 
At Companion Animal Hospital we vaccinate by lifestyle.  We want to discuss with you vaccinations and health issues such as tick-born diseases and FIV.
Schedule a check-up today, or keep in mind that we also perform:
If your Companion needs an x-ray, rest assured that at Companion Animal Hospital we have the latest digital x-ray equipment on-site for faster, better results that are much easier and safer for your Companion than standard x-rays.
This modern equipment allows for results in seconds, decreased stress for your Companion, and less time away from you. It also allows us to email your x-rays to local specialty services and you.
We also have in-house diagnostic tools allowing us to run blood work and develop a treatment plan while you are in the office.
We offer dental and surgical services Monday through Friday.  Dental procedures are important to the health of your Companion because a stinky mouth leads to the loss of teeth, heart, and kidney disease.  Following dental procedures, we can provide you with a wide selection of products to prevent future illnesses.
We can perform necessary surgical procedures on dog, cat, and exotic Companions including spays, neuters, bladder repair, foreign body removal, and more.  I encourage you to have dog and cat Companions spayed or neutered around six months and rabbits spayed around four months so they can enjoy optimum health and behavior while being a part of your family.
At Companion Animal Hospital your Companion will receive complete, whole body care.  We are open to Alternative Therapies and can recommend some of the excellent practitioners in our community.  
Nutrition is a critical component of the health of your Companion.  Most products I recommend can be purchased locally.  I also often recommend nutritional supplementation products made by Standard Process which are readily available on our shelves.
The Companion Animal Hospital of Middletown Pet Portal allows you to do all kinds of things online without the need to call into the office. You can:
Schedule appointments
Sign up for appointment reminders
Get medical records for your companion
Request prescription refills
and more
Companion Animal Hospital Karen Lazas, D.V.M.
11612 Main Street | Middletown, KY 40243
ph: 502.883.1765 | fax: 502.883.1876
MON 8:00am – 5:00pm | TUE 8:00am – 7:00pm | WED 9:00am – 1:00pm
THUR 8:00am – 10:30am, 12:30pm – 7:00pm | FRI 8:00am – 5:00pm | SAT 9:00am – 1:00pm